News..
All new quotes will now be added to the new site.
"Art Quotes"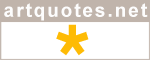 http://www.artquotes.net
The Art Quotes newsletter will remain the same.


Recent Art Quotes

Why do you try to understand art? Do you try to understand the song of a bird?
::: Pablo Picasso :::
Painting is the most beautiful of all arts. In it, all sensations are condensed; contemplating it, everyone can create a story at the will of his imagination and.. with a single glance.. have his soul invaded by the most profound recollections; no effort of memory, everything is summed up in one instant. A complete art which sums up all the others and completes them.
::: Paul Gauguin :::
By nature I am curious about life, and this extends to my business.
::: Richard Branson :::
I know some people think one leads a glamorous life, but I must admit I've never felt that myself. Even when you've sat here in Hollywood with a swimming pool out there, I still feel my life is just as a working artist, actually.
::: David Hockney :::
Lack of clarity is probably more responsible for frustration and underachievement than any other single factor.
::: Brian Tracy :::
I'm not looking for images, They just appear and take on an interest. Sometimes you look at a thing and it has no interest and then you see it in a different way and it has another meaning. Or something that was of no use will become useful.
::: Jasper Johns :::
You have to systematically create confusion, it sets creativity free. Everything that is contradictory creates life.
::: Salvador Dali :::
One has the advantage when you're very young that you've nothing to lose. Later on things become a burden, I think your past work sometimes becomes a burden.
::: David Hockney :::
My garden is my most beautiful masterpiece.
::: Claude Monet :::
What is life, but a series of inspired follies?.
::: George Bernard Shaw :::
He (Vincent) has painted a few portraits which have turned out well, but he always does them for no payment. It is a pity that he does not want to earn something, for if he did want to he could make something here, but you can't change a person..
::: Theo van Gogh :::


Join "art quotes"
If you have any problems subscribing or unsubscribing, please just contact me here..
dion (at) artquotes.net
Stuff
Dion Archibald
dionarchibald.com
contemporary figurative artist, Dion Archibald
Linkism
www.linkism.com
Art Directory with a selection of arts related listings. Submit your art site.
Woopidoo
woopidoo.com
business and finance quotes and articles. motivational business quote each weekday, business directory, and more..
Quote Monk
quotemonk.com
famous quotes, inspirational quotes, and all kinds of quotes!
Think Monk
thinkmonk.com
business and technology articles.
Art Quotes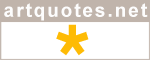 the new "art quotes" site evolved into an art portal with artist profiles, art quotes, and resources for artists. (The current art quotes site will remain online but I will no longer be updating it)